Home » University » Campuses » Shri Rajiv Gandhi Campus
Shri Rajiv Gandhi Campus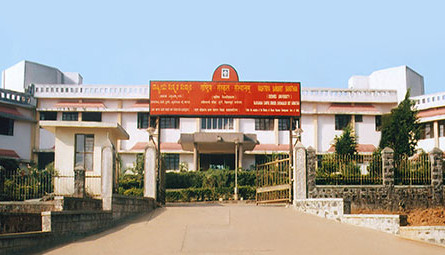 The Rashtriya Sanskrit Sansthan established Rajiv Gandhi Kendriya Sanskrit Vidyapeetha as its constituent unit at Sringeri (Karnataka) on 13th January, 1992. The foundation stone for this Vidyapeetha was laid by His Holiness Jagadguru Sri Sri Bharati Teertha Mahaswamiji in the presence of His Excellency Sh. R. Venkataraman, the then President of India and Sri Arjun Singh, the then Minister of Human Resource Development, Govt. of India. In 2002, when Rashtriya Sanskrit Sansthan was declared as Deemed University, this Vidyapeetha has been considered as the Campus of Rashtriya Sanskrit Sansthan. This Campus is situated at Sringeri, Karnataka. Sringeri is holly place graced by the sages Vibhandaka Maharshi , Rushyashrunga Maharshi and also famous for Sri Sharada Peetham established by Sri Shankara Bhagavatpada. This campus got a piece of land 10.2 acres from Government of Karnataka which is

370 K.M. far away from Bengaluru
110 K.M. far away from Mangaluru
85 K.M. far away from Udupi
110 K.M. far away from Shivamogga

Special features –

Eminent teachers having National level recognition.
Varied courses including Prak Shastri, Shastri, Acharya, Shiksha Shastri, VidyaVaridhi and Diploma in vastu.
Teaching of Vyakarana, Jyotisha, Mimamsa, Nyaya,Vedanta, Sahitya and Shiksha Shastras.
Facility to study modern subjects such as Hindi, English, Kannada, History, Computer Science, and Physical Education along with traditional shatras.
Swadhyaya Kendra of Mukta Swadhyaya Peetham (Institute of Distance Education) for those who cannot study through regular mode.
Diploma Course in Vasthu Shastra to get expertise in Vastu.
Guidance for Research in Shastra Field.
Training of Sanskrit Teachers for the Enhancement of Teaching Skills.
Sanskrit is the medium of instruction and communication.
Vagvardhini Parishad for enriching spoken Sanskrit and shastraic skills.
Sharada Vishishta Vyakhyana Mala and Vakyartha Parishad for the improvement of shastraic thinking and to enrich the attitude towards Studying Shastra.
Encouragement for Indian cultural notions such as music, drama, sports etc..
Special training for the talented students to participate in various national level and state level competitions.
Jagadguru Sri Sri Bharati Teertha Gold medal (in memory of the parents of Padmashree Dr. V. R. Gowrishankar, administrator, Sringeri Muth) and other endowment prizes for the campus students who have secured highest marks in different Shastras at Prak Shastri, Shastri, Acharya and Shiksha Shastri level.
Well facilitated Hostel for students (Boys & Girls) arriving from different regions.
Midday meal Sharada Prasada for students, from Sri Muth, Sringeri.

Land and Building Details

Total Area - 10.2 Acre
Main Building Built-up Area - 2361 Sq. Mtr
Campus Built-up Area - 6918 Sq. Mtr
Girls' Hostel - 1150 Sq. Mtr (24 Rooms)
Boys' Hostel - 1856 Sq. Mtr (40 Rooms)
Parking Built-up Area - 100 Sq. Mtrs
Play Ground Area - 9600 Sq. Mtr
Staff Quatrers Built-up Area - 630 Sq. Mtrs
Guest House - 380 Sq. Mtr
Campus Auditorium - 530 Sq. Mtr



Contact Details
Central Sanskrit University
SHRI RAJIV GANDHI CAMPUS
Menase, Bharati Nagar Post, Sringeri, Karnataka - 577139
www.csu-sringeri.edu.in
principal_rgc[at]hotmail[dot]com
08265-250258, 08265-251763(Fax), 08265-251616(R.)
---