Home » University » Campuses » Jaipur Campus
Jaipur Campus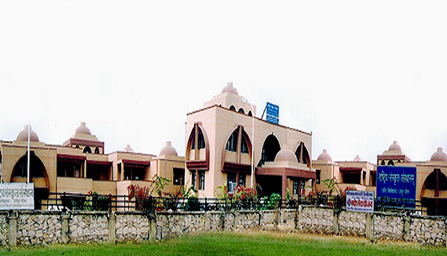 Rastriya Sanskrit Sansthan is an Inter disciplinary University, In which teaching and preaching of ancient and modern language and literature .

It was founded by the Chief Minister of Rajasthan on the advice of education Minister Government of India, In may 1983 as Kendriya Sanskirt Vidyapeeth. It is re-named as Rastriya Sanskirt Sansthan, Deemed University, Jaipur Campus. The campus has total area of 7.27 acres of land. Which is allotted by Jaipur Development Authority in 2003. Finally, It has taken shape in such a grand and attractive building at Triveni Nagar Gopalpura bypass Jaipur. It is about 12 km from Jaipur railway station. The constructed area of the building is about 8692 sq/mtr. Adjoining the main building Girls and Boys Hostel are also located. There are 58 rooms for the boys, 19 rooms for the girls and 9 Staff quarters. There is an auditorium for the various cultural and academic activities. The Sansthan is also having main academic:-

1. Sahitya ,
2. Vyakaran,
3. DharmShatra,
4. Jain Dharsan,
5. Shiksha Shastri (B.ed), Shiksha Acharya (M.ed),
6. Prakshastri at Secondary level, Later on
7. Jyotish (2000),
8. Sarvadarshan (2011),
9. Veda (2013),
10. Diploma Ayurveda & Yoga Course (2016).

The University runs research Programme for the degree of Vidyavaridhi (Ph.D). In recent years 2009-2011 Prakrit education programmed has also begun for the knowledge of ancient language of our country. Correspondence courses are also conducted in the Sansthan from Shastri to Acharya classes. The facilities of computer education is also available for all the Courses and all round progress of the students, Sansthan has also a playground, badminton court and other facilitates There is sufficient space for parking of different vehicles, A guard room is just near the main gate to maintain security of the campus.


Contact Details
Central Sanskrit University
JAIPUR CAMPUS
Gopalpura Bypass, Triveni Nagar, Jaipur, Rajasthan - 302018
www.csu-jaipur.edu.in
director-jaipur[at]csu[dot]co[dot]in
0141-2761115 (Off.), 0141-2761236 (Principal), 0141-2760686
---